[New] American Girl in New Orleans
April 17, 2012, 16:44
Filed under:
Books
| Tags:
American Girl
,
fiction
,
friendship
,
gens de couleur libres
,
girls
,
minorities
,
New Orleans
,
nineteenth century
,
young adult
It was out of curiosity and nostalgia that I read the latest book series by the American Girl company. The new books are a paired series of two friends, Marie-Grace and Cécile, who live in 1853 New Orleans, LA. The six paperbacks give you alternating and overlapping views of how a nine-year old girl might have experienced the antebellum Crescent City as it suffered through one of its worst yellow fever epidemics.
Cécile Rey is a french-speaking free person of color, gens de couleur libres, who dreams of public speaking. She cheers up the children at both the white and "colored" orphanages with her stories. Her father is a stonemason who creates the beautiful marble tombstones of New Orleans' iconic above-ground cemeteries. Her brother, Armand, returns from studying in Paris and is a talented artist but almost dies from the fever.
Marie-Grace Gardener was born in New Orleans but left as a young child with her father after her mother and baby brother died of yellow fever. The Gardeners return after living in the Northeast, and Marie-Grace must adjust to a new, if familiar, culture and language. She helps her father, a doctor, and sings very well. Her mother's family lives on a bayou in Belle Chênière, Louisiana, where Marie-Grace heads to spend the Christmas holidays.
Marie-Grace and Cécile bond while working in the city's quickly-filling orphanages, and the series culminates with a benefit held for the many newly orphaned children. Cécile and Marie-Grace both perform their gifts at the benefit, sealing a lifelong friendship that overcomes their linguistic and racial differences.
Naturally, I was intrigued by this series: Nineteenth-century New Orleans featuring a free person of color who speaks French, and the tensions of a growing anglophone American population! American Girl is expanding its definition of "American."
I am happy to see this trend of representing non-anglophone Americans being taken up by such a popular and well-established series.

Growing up, the books were read to me until I could read them myself. I remember well the 1997 introduction of, Josephina Montoya, "a Hispanic girl whose heart and hopes are as big as the New Mexico sky." The sixth girl in the series, Josephina reflected the company's decision to represent more minority American girls. Addy, "a courageous girl determined to be free in the midst of the civil war," was the doll I owned and the series I remember reading the most.
If you look at the list of girls (given at the beginning of each book in historical order) it is striking that all the girls of color are nineteenth-century characters:
1764: Kaya, "an adventurous Nez Perce girl whose deep love for horses and respect for nature nourish her spirit"
1774: Felicity, "a spunky, spirited colonial girl, full of energy and independence"
1824: Josephina
1853: Cécile and Marie-Grace, "two girls whose friendship helps them–and New Orleans–survive terrible times"
1854: Kirsten, "a pioneer girl of strength and spirit who settles on the frontier"
1864: Addy
1904: Samantha, "a bright Victorian beauty, an orphan raised by her wealthy grandmother"
1914: Rebecca, "a lively girl with dramatic flair growing up in New York City"
1934: Kit, "a clever, resourceful girl facing the Great Depression with spirit and determination"
1944: Molly, "who schemes and dreams on the home front during World War Two"
1974: Julie, "a fun-loving girl from San Francisco who faces big changes–and creates a few of her own"
I'd argue that this lop-sided representation of minority American girls means two things:
One, American Girl has purposefully chosen to tell these lesser-known earlier histories of American girls. This gives today's minority girls a chance to read and connect to their early history in this country, one they might not learn in school. Also, depicting an early American diversity pushes against the often simplified early American story: pilgrims, Indians, slaves.
Two, there are more books to be written! If I were to think in the way it seems the creative directors of this company do, in search of stories in which girls overcome a historical obstacle–oppression, conflict, disaster–while celebrating the talents and big hearts of American girls, I would call for the writing of a Civil Rights Movement story, an Asian-American story (possibly immigration or internment), or a Caribbean-American story (Puerto Rico??).
The 1920s, 50s, 60s and 80s lack an American Girl representative. I hope they are in the making, for in 2012 these decades are certainly the distant past for today's 9-year old.
—
To be honest, I was at first turned off by the idea of a, crudely-termed, black/white pairing for this latest American Girl series. I thought, "Will there forever be racialized doubling in Southern American literature!?" But upon reading them, I found the books to be truly touching. And, realistic or not, this example of interracial friendship and understanding can only be a positive model for young girls in today's ever-tense, ever-mixing America.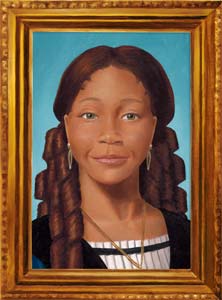 The authors' perspectives: Cécile and Marie-Grace video
5 Comments so far
Leave a comment